---
Audubon Development Plan Update
---
Citizen Survey – complete by September 25th!
The Town is updating the Development Plan for the Audubon New Community, which includes the area located to the north of the University at Buffalo North Campus between Sweet Home Road, Campbell Boulevard/Stahl Road, and North French Road (see the study area map in the flyer below). This brief survey is designed for residents of the Audubon community as outlined on the map but is also open to those who spend time in the area for work, education, recreation, or other purposes. The survey will take no more than five (5) minutes to complete. See the flyer below for more information. You can scan the QR code on the flyer or click the link below to access the survey digitally. Paper copies must be requested by contacting Gary Palumbo at gpalumbo@amherst.ny.us.
Citizen Survey
---
Project Charter
The Town Board endorsed the Project Charter (see link below) for the Audubon Development Plan Update at their meeting on November 7, 2022, along with supporting the Town to move forward with the planning process stated in the Charter.
Audubon Development Plan Update Project Charter
What is the Audubon Development Plan Update Project?
A plan and zoning regulations adopted in 1972 that guided the development of the Audubon New Community. The Town of Amherst is now undertaking a critical review and update of the Audubon Development Plan
The current project includes inventory and analysis of:

Existing land uses, infrastructure, transportation, demographic, and economic development conditions
A review of current New Community District (NCD) zoning districts and regulations
Development of a commercial corridor Revitalization Plan.

Recommendations for revisions to the Audubon Development Plan and for amendments to the land NCD zoning
Recommendations can be incorporated into the Town's Comprehensive Plan
Why update the Audubon Development Plan and Zoning?
To identify anticipated demand for future residential, commercial and office development
To align future land use plan with current desired development objectives
To identify and rectify outdated zoning code standards
To increase success of the NCD and revitalize its central corridors
Where are the physical boundaries for the NCD?
The Study Area encompasses approximately 1,726 acres in the northwest section of the Town
Boundaries:

UB North Campus and Ellicott Creek to the south
Campbell Boulevard to the east
Sweet Home Road to the west
North French Road to the north

Revitalization corridor plans for J.J. Audubon Parkway, North Forest Road, Dodge Road, and Millersport Highway (approximately 553 acres)
Who is involved?
Town of Amherst (adopts plan and zoning amendments)
Town Residents (provide input on their community)
Audubon Homeowners' Association (Audubon residents)
Empire State Development and Audubon Development Corporation (contract partners)
Commercial and office space owners
When will the NCD plan be complete?
Public information meeting: April 13th, 6:30pm
Stakeholder interviews: Spring 2023
Inventory and assessment: Spring - Summer 2023
Revitalization Plan: Fall 2023
Implementation of recommendations to Town Comprehensive Plan: Late 2023
Contact Information:
Gary Palumbo, AICP, Associate Planner
(716) 631-7051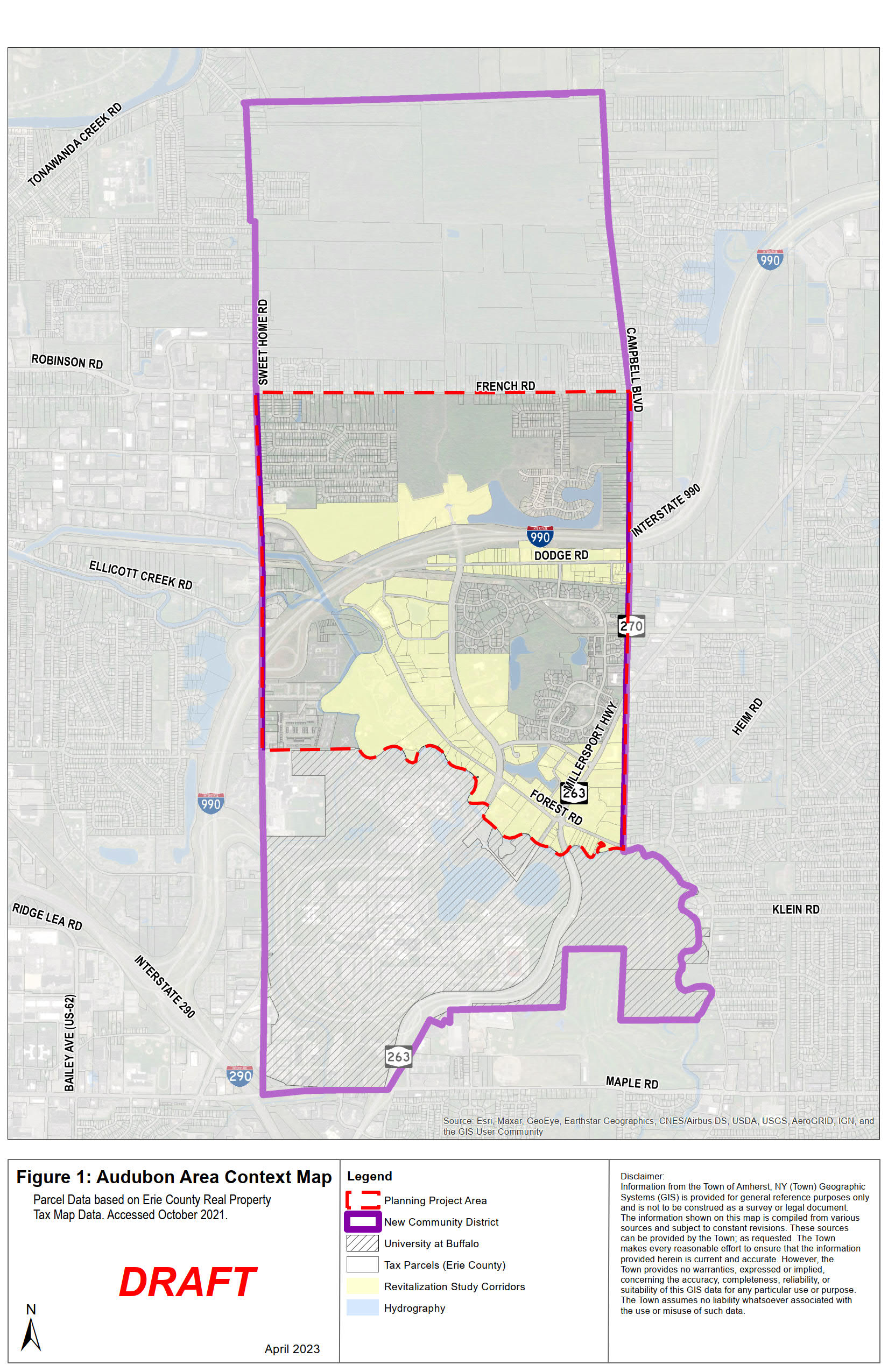 ---
Public Information Meeting
The Town and its consultants held a public information meeting about the Audubon project on Thursday, April 13th at 6:30pm at the Town of Amherst Senior Center. Topics discussed included:
Transportation
Land Use
Economic Development
Housing & Population Trends
Audubon Public Meeting Presentation